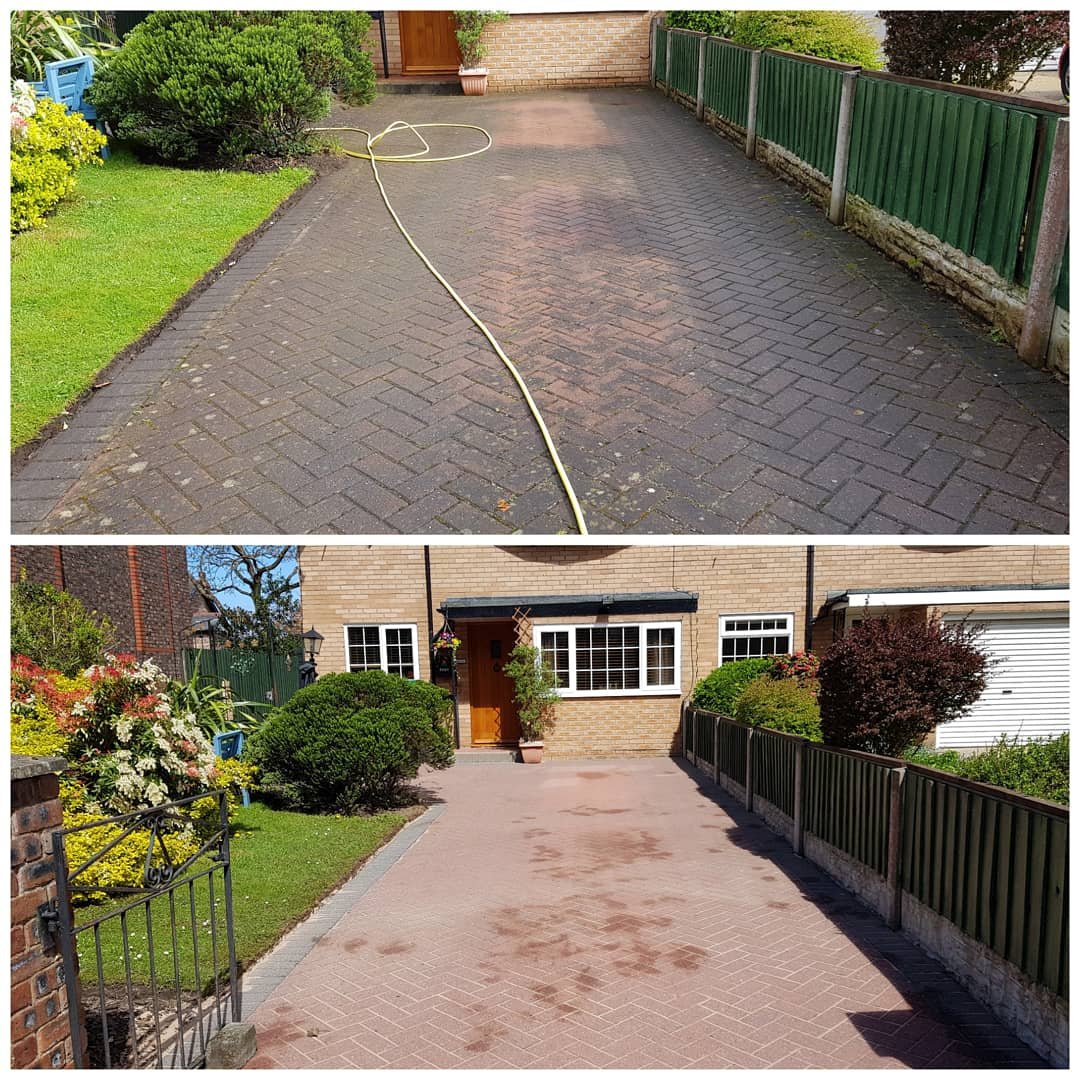 Over time hard wear and nature takes over the look of all driveway surfaces.
With leaked car fluids like engine oil, break/clutch fluid or even tyre shine.
Dirt from foot fall, along with the unwanted growth of weeds, moss, algae, lichens, black and white spot.
Your driveway can become not only unsightly and unsafe but these types of fluids, dirt and growth can damage the surface over time.
Ecowash provide professional driveway cleaning services in and around the Wirral, Liverpool and Chester areas.
We provide driveway cleaning services for all different driveway types.
Including concrete/clay block paving, imprinted concrete, tramac/asphalt, concrete paving, resibonded and natural stone.
The best method of cleaning depends on a number of factors, most importantly is the type of surface.
This is because pressure washing can easily cause damage to some types of driveway surface if not used correctly.
Another factor is the type and amount of growth present on the surface.
This is because water alone can't always remove all stains that may be present on the surface and therefore on some surfaces, treatments can be applied to aid the cleaning process and reduce the amount of water used.
Some driveway surfaces we clean:
Block Paving
Imprinted Concrete
Tarmac/Asphalt
Concrete Paving
Poured Concrete
Resibonded
Natural Stone
As we all know first impressions matter to many of us.
Your driveway is what people see before they see your home.
Make first impression matter to those visiting by investing in returning your driveway to what it once was.
Equipped with our extensive knowledge and experience in cleaning all different driveway surfaces.
Along with using the most eco-friendly, state of the art machinery and equipment we are able to return your driveway to what it was.
By cleaning your driveway you can improve the overall look of your property and grounds.
This could help to increase the value of your property if you are planning on putting the property on the market.
We also provide a wide range of driveway re-sanding, re-sealing and restoration services to replace and repair any damaged caused to the driveway surface by weathering and organic growth.
For more information on our driveway cleaning service visit our driveway cleaning specific website www.wirraldrivewaycleaning.co.uk
For more information on any of our other external cleaning service please call 0151 559 0668 to request a free no obligation quote.