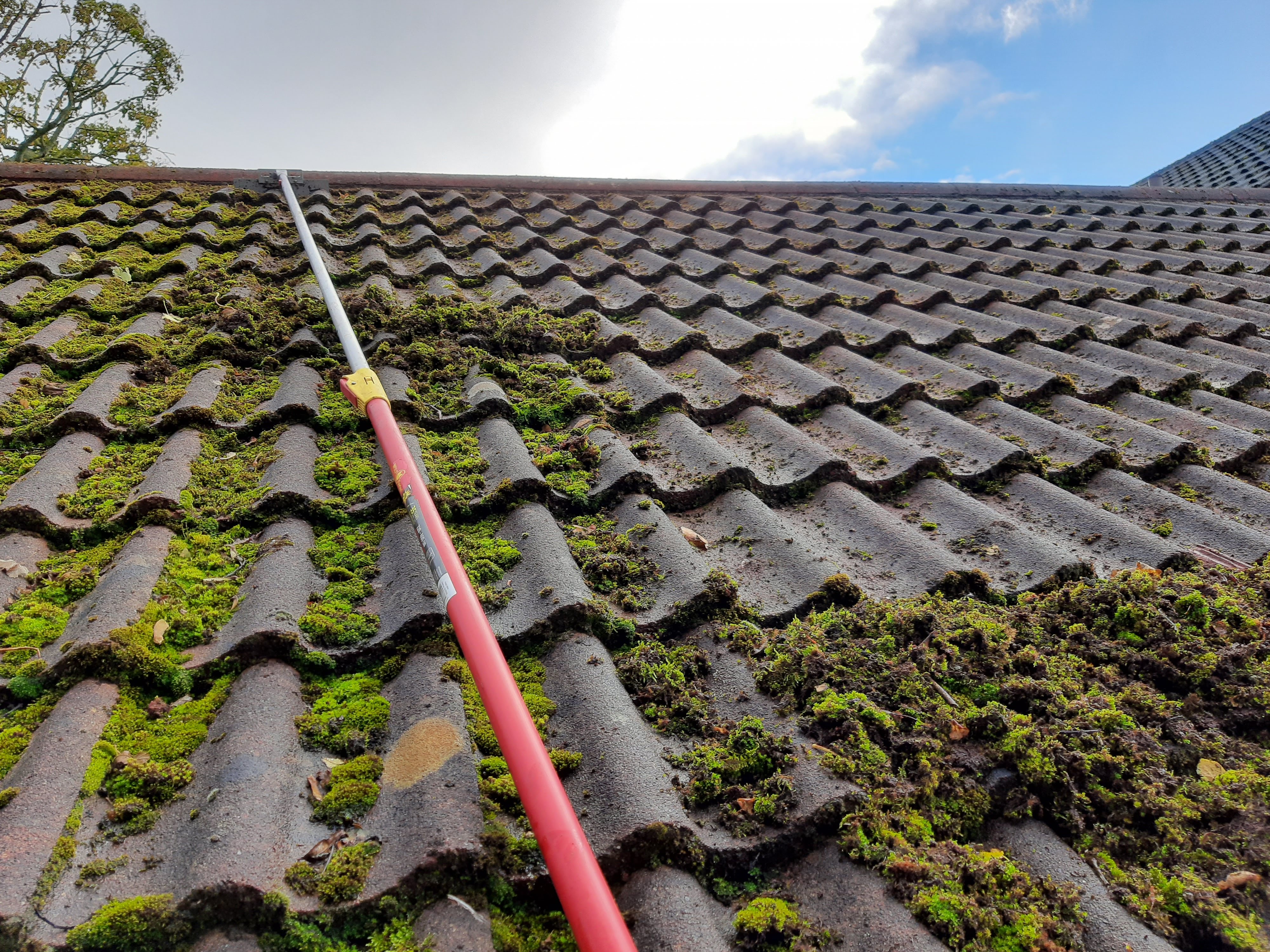 Most roof tiles in the UK are made from clay or concrete.
These materials are prone to organic growth, such as moss, lichen and experience a general build-up of dirt and pollution over time.
Natural stone roof tiles are also prone to these growths and build ups although in most cases these can take longer to become heavily soiled as opposed to manufactured tiles.
While this rarely causes any damage to the roof tiles themselves, it can block gutters and damage cement on the roof.
Moss and lichen are also very unsightly and this is one of the main reasons consumers choose to clean their roofs.
Roof cleaning has become popular in the United Kingdom over the last decade.
This is partly due to an increase in moss growth, which is caused by improvements in air quality.
With fewer chemicals such as lead in the air, there has been a notable increase in moss growth on paths and roof tiles in the UK.
Ecowash provide professional roof cleaning services in and around the Wirral, Liverpool and Chester areas.
We provide roof cleaning services for all different roof tile types, tiled roofs, flat roofs, roof paneling, glass roofing, fabricated roofing.
The best method of roof cleaning depends on a number of factors, most importantly is the type of roof surface.
This is because, by selecting the wrong method of cleaning for the roof surface, it is possible to cause irreparable damage to not only your roof but possibly your entire property.
Another factor is the type and amount of dirt and growth present on the surface.
This is because water alone can't always remove all stains that may be present on the surface and therefore on some surfaces, treatments can be applied to aid the cleaning process and reduce the amount of water used.
In some cases it is preferred because of roof type, or to limit physical presence on the roof.
That moss and any loose debris is removed using stiff brush heads on telescopic poles.
The entire roof to be coated with an algaecide / biocidal solution that over a period of days will kill any remaining organic growth thats present.
Leaving any traces to simply weather away leaving your roof looking like new.
We are also able to clean your roof using specialist low pressure steam cleaning equipment.
The focus here is on evenly cleaning the entire roof surface without causing damage.
After the roof has been cleaned it can also be coated with an algaecide / biocidal solution to ensure any remaining organic growth has been killed.
Preventing any further significant moss or lichen growth for between three and five years.
Roof Surveys Wirral, Liverpool, Chester
With thanks to state of the art digital technology, we are now able to offer a roof surveying service.
Before cleaning we will aim to deploy a very small UAV/Drone(weather permitting) or camera on a telescopic pole.
This will provide us both with a clear view of your roof, showing any areas of damage before the cleaning process goes ahead.
It will also give us a clear view of the job ensuring all preparations can be made specific to your roof/property.
For more information on our roof cleaning service or to book a quote please complete our online form by following this link.
For more information on any of our other exterior cleaning service please call 0151 559 0668 to request a free no obligation quote.