As the seasons change and summer comes to an end and autumn begins, we wanted to make you aware of the seasonal and autumnal cleaning services provided by ecowash, along with a few new additional services to our normal lines of business so we developed a new flyer.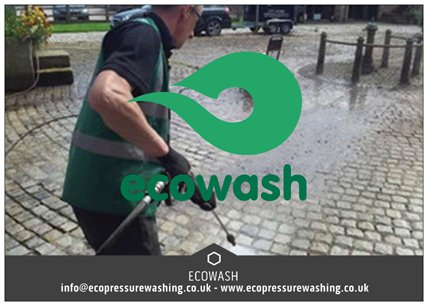 As can be seen on the back of our new flyer below we now have a landline phone number making it cheaper for our customers to call us, additionally we felt it was important to add credibility to our company.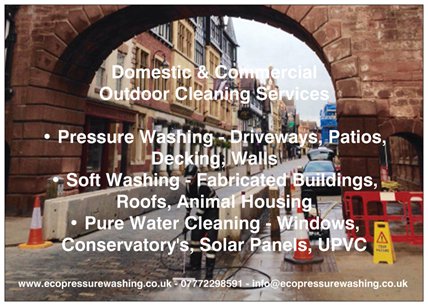 As can be seen in the flyer above, we tried to focus on the main services we offer.
Pressure Washing – Driveways, Patio's, Decking, Walls, Gum & Graffiti Removal, Commercial Surface Cleaning.
Soft Washing – Building Exteriors, Roofs, Animal Housing, Caravans.
Pure Water Cleaning – Windows, Conservatory's, Solar Panels, UPVC.
Seasonal Cleaning – Gutter Cleaning, Leaf Clearance & Disposal, Snow Clearance.
Additional Services – Tarmac Restoration, Driveway Resanding, Pointing, Surface Sealing, Gutter Leaf Protection, Rock Salt Spreading, Litter Picking.
Autumnal Cleaning Services
Driveway Maintenance – after having your driveway cleaned during the summer months now is the time to start maintaining your driveway. By keeping on top of the autumnal fall of leaves, this will help to keep your driveway looking good until spring summer next year. Additionally by applying weedkiller to any weeds that may be trying to return, this can help prevent them returning in the spring. (note: this service is available throughout the year).
Gutter Cleaning – it is important to maintain clean gutters all year round, to prevent costly damage to your property caused by blocked gutting and drain pipes. Now is a great time to have your gutters cleaned and leaf protected before the autumnal fall of leaves, and sever weather begins.
Leaf Collection and Disposal – its that time of year were the trees, shrubs and plants start to shed their leaves over your driveway, patio, paths, garden area, lawn etc. We can help you have a leaf free autumn/winter by regularly collecting the fallen leaves. Once the leaves are collected we have a number of disposal options. (1) we can add them to your compost bin/heap to enable you to produce your own rich compost for your garden. (2) we can take the collected leaves away with us and add them to our compost heap for us to produce rich compost that we can then supply to local gardeners.
Snow Clearance & Rock Salt Spreading – in the event that we have a sever winter, we provide both snow clearance & rock salt spreading services.
All the services we deliver are aimed towards both domestic and commercial customers.