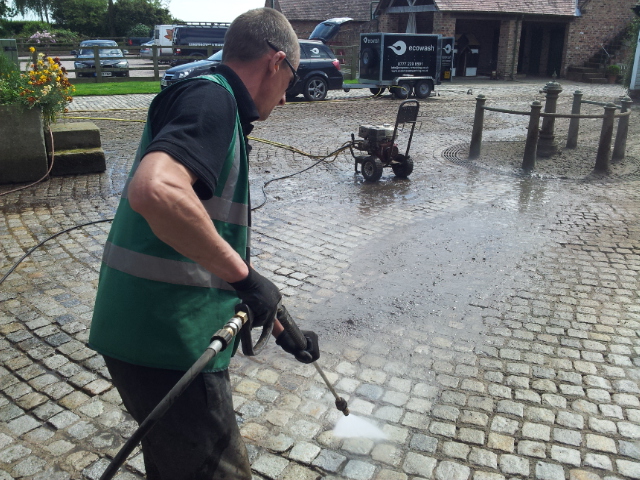 Pressure Washing Wirral, Liverpool, Chester.
Ecowash provide a full range of both domestic and commercial pressure washing services. Covering the Wirral, Liverpool and Chester areas.
Our driveway cleaning service is available for all driveway surfaces. Plain or patterned concrete. Tarmac, block paving, resi-bonded or traditional cobbles. In addition we provide a wide range of driveway finishing. Restoration and maintenance services. Re-sanding and sealing block paving. Tarmac or patterned concrete restoration. Maintenance of all driveway services including leaf, blossom and litter removal.
Our patio cleaning service is available to all patio surfaces. Block paving or Paving slabs. Crazy paving. Indian sandstone, York stone.
In addition we also offer a wide range of patio finishing and restoration services. Re-sanding of block paving. Re-pointing of paving slabs. Crazy paving. Indian sandstone. York stone. We can also provide a range of different sealants depending on the surface type.
Although our decking cleaning service is one of our pressure washing services, we actually use very little pressure when cleaning wooden surfaces to prevent causing damage to the wood. To enable us to achieve an even clean across the wooden surface we use a specialist attachment for the pressure washer called a flat surface cleaner. In addition we also offer a decking treatment service to those requiring our decking cleaning service.
Our roof cleaning service is predominantly a pressure washing service, although this isn't always the best method of cleaning roofs. In some cases softwashing would be the best method. Best methods and practices will be established on quotation.
Whether its a tarmac car park at a supermarket. Or block paving private parking bays at the office. We are able to clean some of the most tired looking surfaces and restore it to its former self with a number of hard wearing car park finishes, resanding and sealing block paving, back to black tarmac restoration.
Our shopping precinct cleaning service, could be focusing on chewing gum removal, through to surface cleaning the entire pavement. In addition we also offer a shopping precinct maintenance service, carrying out daily maintenance tasks like pavement sweeping and litter collections.
Our School playground cleaning service can be us cleaning, restoring tarmac and repainting markings, or it may be an area of great foot traffic needs cleaning and chewing gum removed. Alternativly it may be an area of graffiti that needs removing from playground walls.
Our pressure washing sports court cleaning service is specificly for painted tarmac or concrete type courts. We offer all aspects of sports court cleaning, resurfacing and remarking.
Our graffiti removal service focuses specifically on removing graffiti from hard external surfaces. Graffiti removal is one of our specialist pressure washing services. In addition anti-graffiti coating can be applied after the graffiti has been removed to prevent further vandalism from becoming permanent.
Our chewing gum removal surface focuses on removing walked in chewing gum off most types of hard surfaces, please note that chewing gum cannot be removed off any wooden surface using a pressure washer.
Our recreational area cleaning service, could just be pressure washing a specific area that experiences heavy foot traffic, or it may be that there is graffiti that needs removing from surrounding walls or chewing gum that needs removal.
Our construction and development cleaning service can comprise of a number of pressure washing services, Heritige restoration cleaning, Builders cleans, block paving cleaning & sealing, K-rend cleaning, Site cleaning, spillage cleans.
Our factory and warehouse cleaning service can comprise of a number of pressure washing services, external cleaning of fabricated buildings or silos, surface cleaning of paved areas, pressure washing smoking areas, plant/machinery cleaning.
Pressure Washing Wirral, Liverpool, Chester.
For more information on our pressure washing services please follow the link.